This week is Stay Smart Online Week! And it is all about raising recognition of the threat of cybercrime and encouraging people to act to make improvements to their online security at work and at home.
Stay Smart Online is an Australian Government program that provides simple and easy-to-understand advice about online safety. Microbe is a Stay Smart Online partner due to the fact we believe that online security is so important to our resellers and their end-users. As a Security Software distributor we want to see both our reseller channel and their end users become more and more informed around cybercrime and the threat it poses.
This Stay Smart Online Week, we don't just want to increase awareness, we want to alter behaviour. Microbe has partnered with Stay Smart Online to support 'Reverse the Threat', a exciting fresh project to bring cybercrime out of the shadows and put cyber security in the national spotlight. We all have a role to play in safeguarding ourselves, our families, our businesses and our communities from cybercrime. It's time to unify to counter the threat of cybercrime.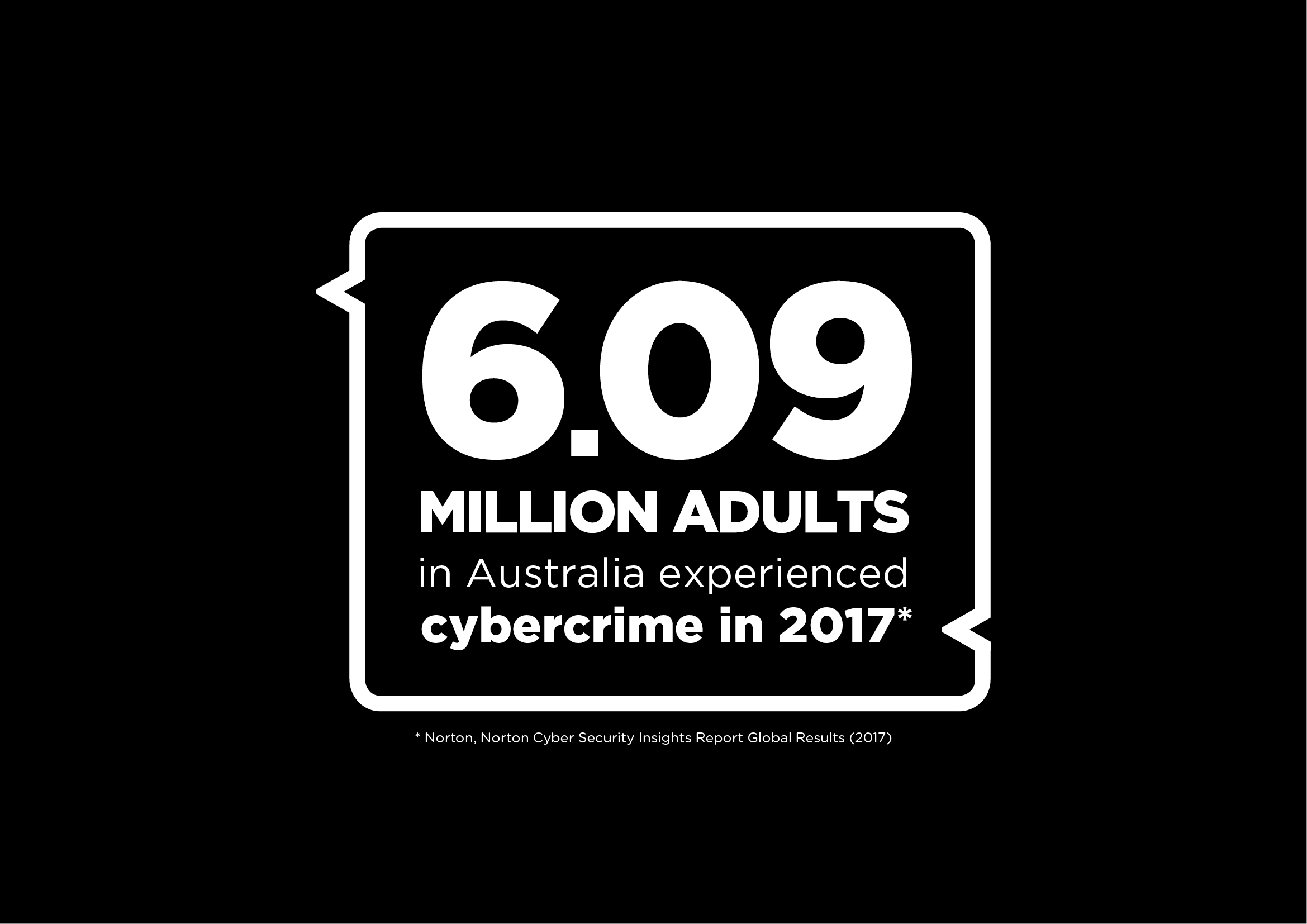 Regardless of whether you are an individual or a business, staying smart online isn't as complicated as you may believe. There rest of the artlicel details a few simple tips to help you reverse the threat online. Cybercrime is a big business. The amount of people being hit by cybercrime in Australia is growing every year, costing huge amounts of money, time and pain. Over 6 million Australian adults were affected by cybercrime last year1. That is one in four Australians2. To help counter the threat of cybercrime in Stay Smart Online Week 2018, we are encouraging you to protect yourself from cybercrime by taking four straight forward actions:
Creating strong passwords and using two-factor authentication
Installing the latest updates for your devices and apps
Knowing how to spot phishing scams
Using public Wi-Fi safely
We are focusing on this four actions because:
Passwords are the first line of defence to protect yourself from cybercriminals
Fake messages, or phishing, is one of the most common online scams
Installing the latest updates for your operating system, devices and apps is one of the best ways to protect yourself from being hacked by cybercriminals
Public Wi-Fi isn't always safe. Without the right protection, your personal information could become public.
Did you know that 59% of people use the same password across all of their devices and accounts?3
This means if a cybercriminal gets hold of your password, they could access all of your accounts. Think of your password like a key — instead of unlocking a door, it unlocks your online life. Cybercriminals can use your password to access and send emails from your accounts, withdraw money from your bank account or access private files, photos and videos from your devices.
Passwords are the first line of defence against cybercriminals. So create a strong password by stringing together a series of words that are easy for you to remember but hard for someone else to guess. For example, we've come up with CoolHipsterKangaClock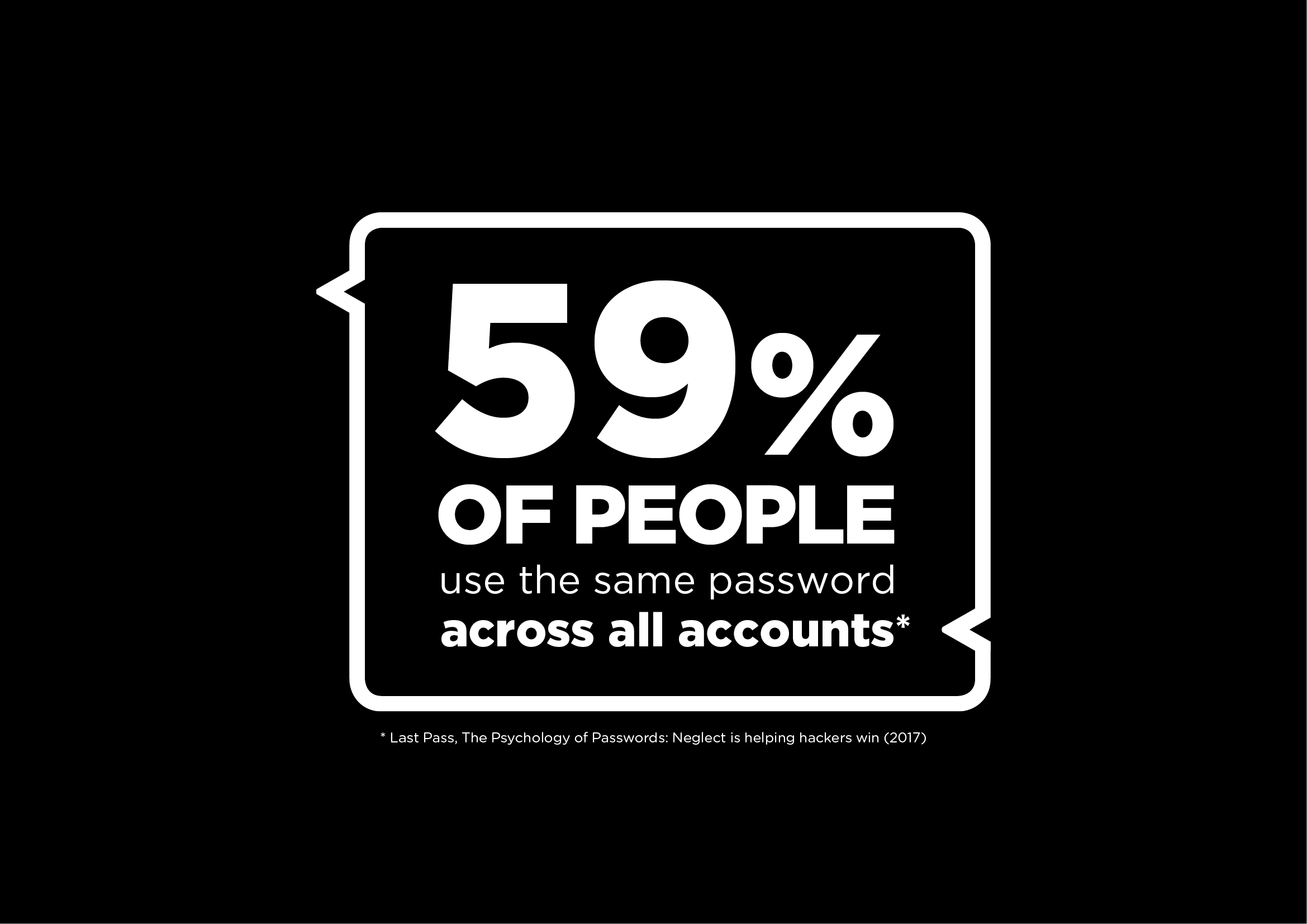 And remember:
Use a different password for every online account you have
Your passwords belong to you – never share them with anyone; not even your partner, parents or children
Add an extra layer of security to your online accounts with two-factor authentication
Cybercriminals can use weaknesses or cracks in the software on your systems to let themselves in.
Updating your software is one of the easiest ways to protect yourself online. Software updates, such IOS and Android are available for your phone; programs on your computer and apps you've downloaded. These updates add new features, install bug fixes, and most importantly, fix security holes that could let cybercriminals in. You should install software updates as soon as they become available. Better still, set your system to auto-update.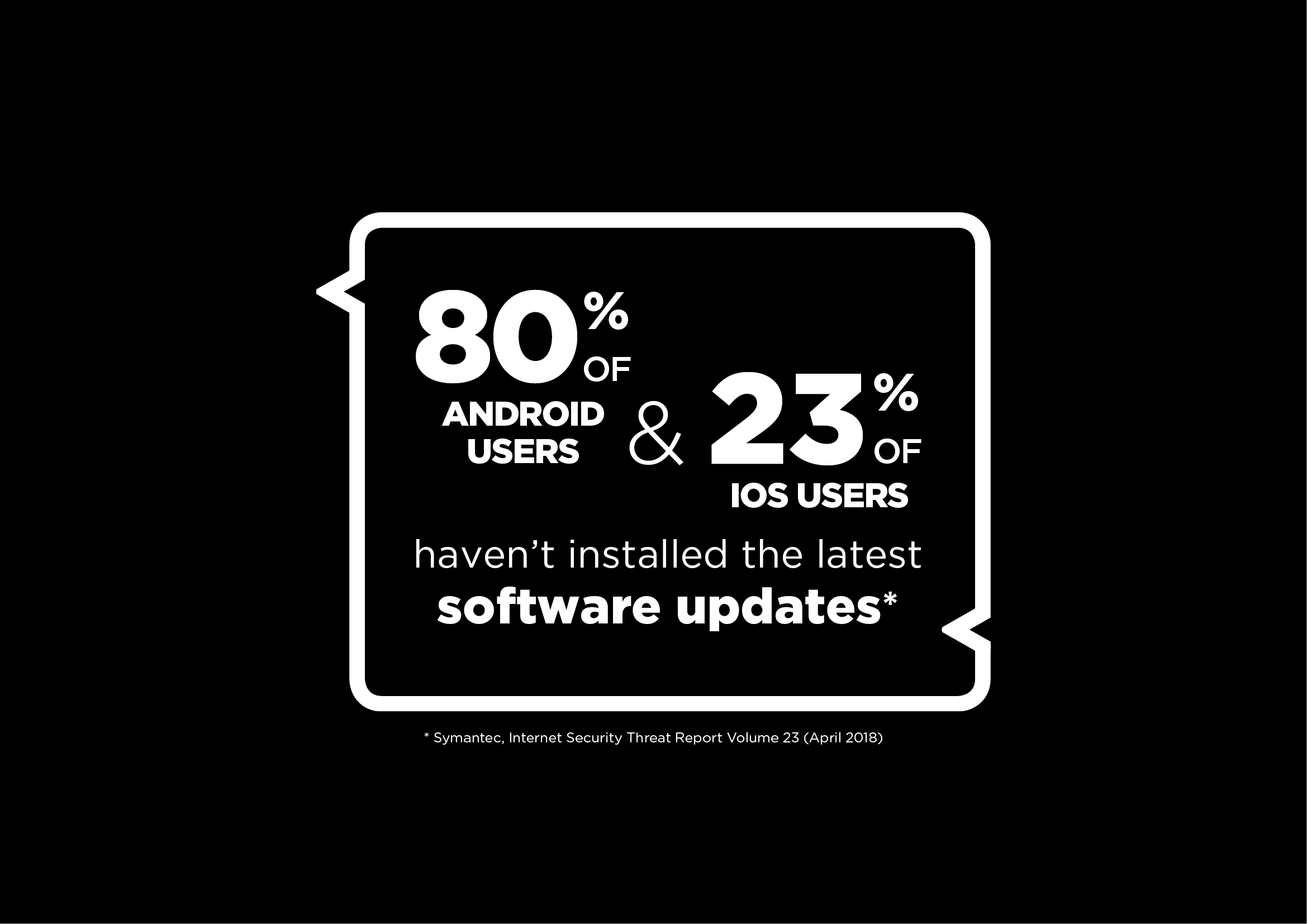 Australians lost over $50 million to online-based scams in 2017.
And one of the most common forms of cybercrime is phishing.4. Phishing are fake messages that try to trick you into giving out your personal or financial details. Some messages may look real by using company logos and branding. You can receive phishing messages by email, text message, social media or over the phone. As cybercriminals become even more sophisticated, we need to remain alert.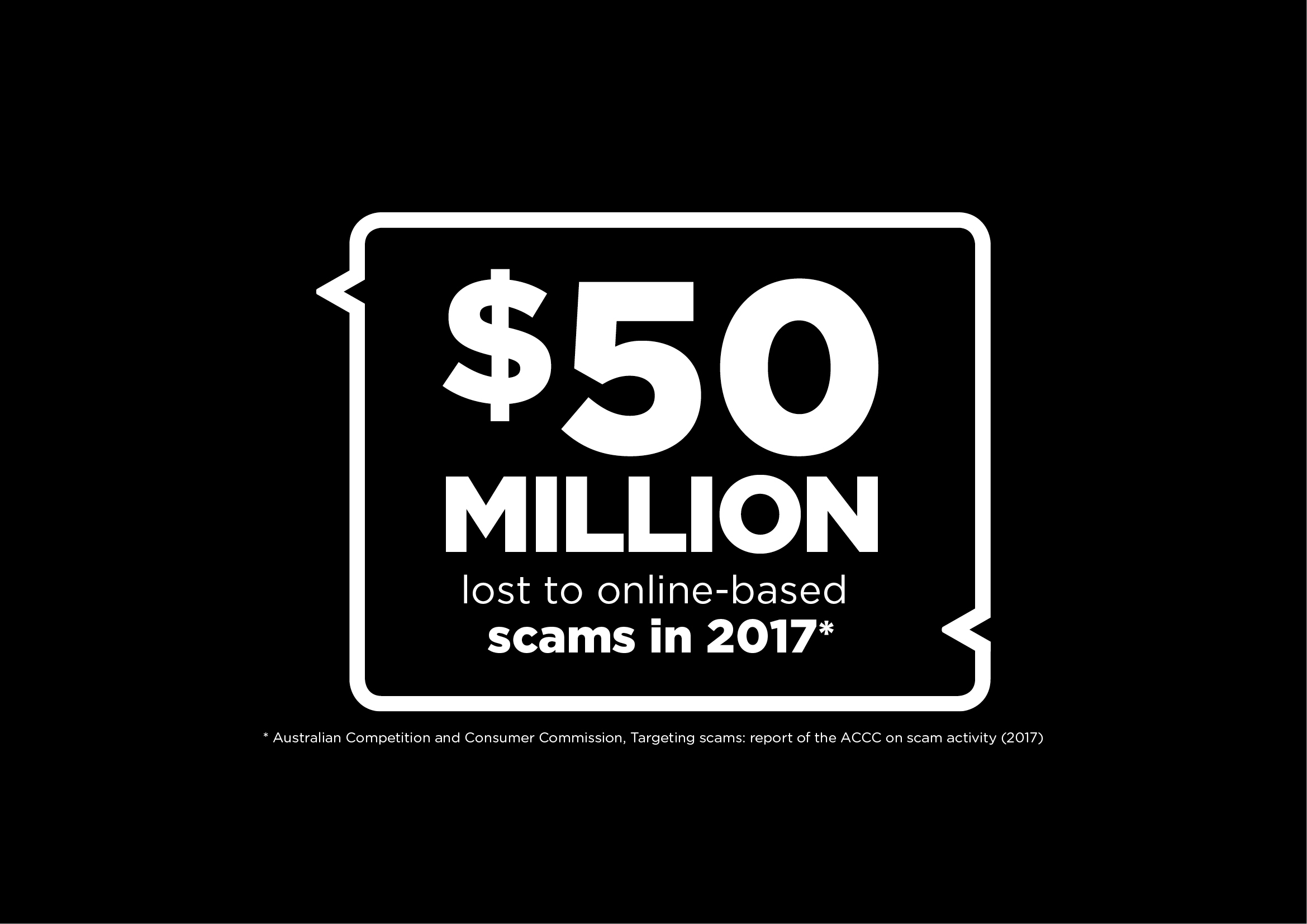 Look out for these common warning signs:
Misspelt words or poor grammar
Messages offering deals too good to be true
Urgent messages demanding immediate action
Messages asking you to confirm your financial or personal details
If you receive a suspicious message, do not click on any links or open any attachments.
Contact the sender organisation to check whether the message is real. Make sure to get their email or phone number by looking up their website independently.
Public Wi-Fi isn't always safe.
If you don't have the right protections in place cybercriminals may be able to see the information being sent between your phone and the Wi-Fi hotspot. So it's important to be careful about what you do online when you're connected to public Wi-Fi.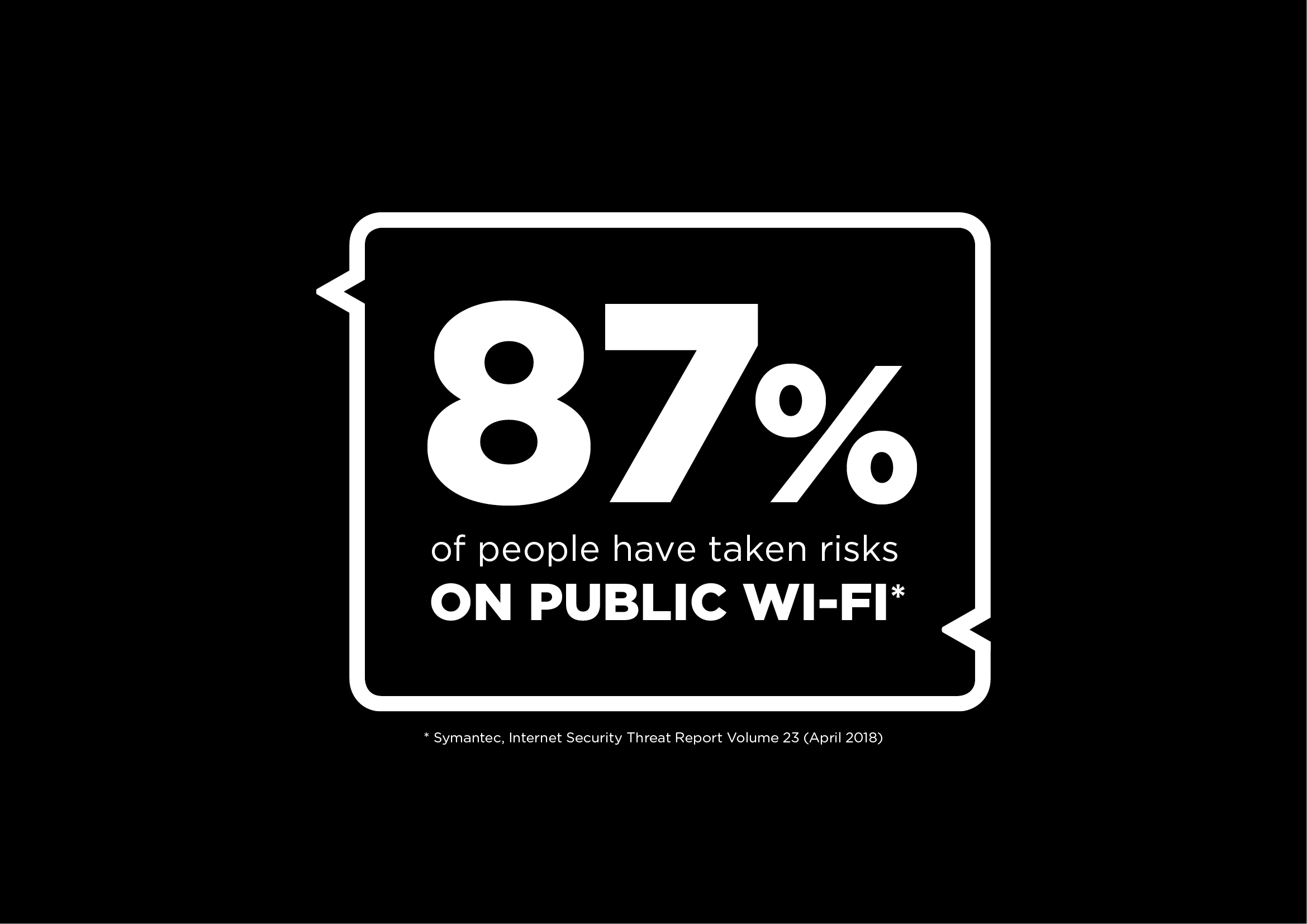 Remember these tips to protect your information and devices:
Turn off any auto-connect settings for Wi-Fi or Bluetooth on your devices
Pay attention to which network you select. Cybercriminals set up rogue hotspots with names that look like a legitimate network
Avoid online banking or shopping, sending confidential emails or entering personal details (like passwords or credit card number)
Stay Smart Online Week runs from Monday 8 to Sunday 14 October
For more information:
Alert service: Stay Smart Online Alerts provide easy to understand online safety and security information and solutions to help protect internet users at home, at work and on mobile devices sent straight to your inbox. The resource also informs users about the latest threats and vulnerabilities within an Australian context, and how to address any risks to their devices or computer networks.
Facebook: Follow Stay Smart Online on Facebook for cyber security tips, news, shared info from reputable sources and more
Website: Visit the Stay Smart Online website at staysmartonline.gov.au for simple advice, tips and tricks on how to stay safer online for the individual and businesses, resources and practical guides.
Footnotes
1 Norton, Norton Cyber Security Insights Report Global Results (2017)
2 Norton, Norton Cyber Security Insights Report Global Results (2017)
3 Last Pass, The Psychology of Passwords: Neglect is helping hackers win (2017)
4 Office of the Australian Information Commissioner, Notifiable Data Breaches Quarterly Statistics Report 1 April – 30 June 2018 (July 2018).
By
Amy
at 8 Oct 2018, 08:32 AM